Criminal Defense Lawyer
Experienced criminal defense lawyer.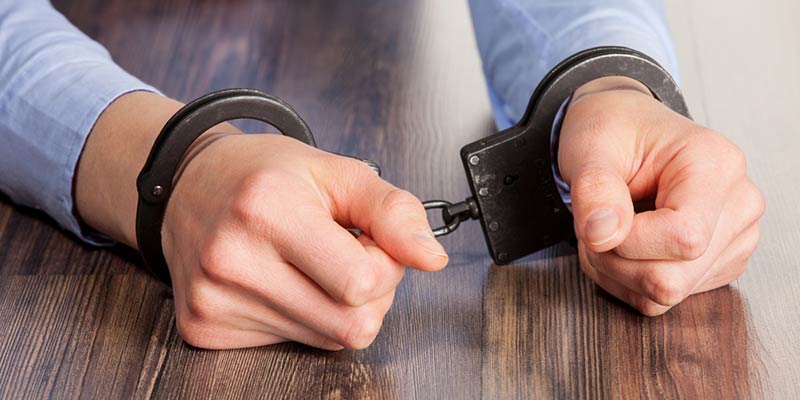 Experienced Criminal Defense Lawyer
If you have been charged with a crime, you know that the situation is serious and requires immediate attention. Being arrested can be a stressful and frightening experience, but you can get the help you need from an experienced criminal defense lawyer. Criminal charges come with strict penalties if you are found guilty. These can have a long-term negative impact on every aspect of your life. The skillful criminal defense lawyers at Johnson & Johnson, Ltd. are experienced in handling all types of criminal matters.
Do You Need a Criminal Defense Lawyer?
Criminal charges should not be taken lightly. Sometimes people feel as though they can handle a criminal charge without a criminal defense lawyer, particularly if the charges are "minor." This can be a big mistake. A professional criminal defense lawyer knows how to defend charges and understands the complex legal process. A qualified criminal defense lawyer will provide you with an appropriate legal defense strategy to fight charges and uphold your rights. You certainly do not want to end up with a criminal conviction on your record.
Types of Criminal Offenses
There are many crimes that may be charged. They range from misdemeanors to quite serious felonies. Very often, a defendant will be charged with more than one criminal charge. A skilled criminal defense lawyer handles all types of charges, including these common offenses:
DUI (Driving Under the Influence)
Drug  Crimes (Possession, Trafficking, Intent to Sell)
Property Crimes (Shoplifting, Theft, Burglary)
Domestic Violence (Assault and Battery)
Sex Crimes (Rape, Prostitution)
Juvenile Crimes
White Collar Crimes (Identity Theft, Fraud)
Violent Offenses (Hit and Run, Robbery, Murder)
It is important to understand the type of crime you are charged with. A felony carries much higher penalties than a misdemeanor does.
Criminal Penalties
The penalties for crimes vary greatly based on the severity of the crime. In some cases, the law provides a range of penalties that must be applied to specific crimes. Keep in mind that just because you have been charged with a crime you are not yet guilty. A criminal defense lawyer works to resolve your case without a guilty finding or, when this is not possible, achieve the lowest possible penalty. Some common penalties include fines, community service, supervision, probation, jail sentence, and rehabilitation attendance, to name just a few. Depending on the case, a sentence may harm you for years to come and will remain on your record. It could make it difficult for you to get a job or attend school.
The Legal Process
The legal process can be daunting, especially for those who are unfamiliar with it. The process begins with charges. Depending on the charges, you may need to remain in jail until you have a hearing. The hearing or first appearance is critical because it will determine the actual charges against you as well as set bail and future hearing dates. As a defendant you will be able to enter a plea. Look to your criminal defense lawyer to assist in choosing the plea that is best in your situation. A hearing date or trial date will be set. You and your attorney will have time to review the charges and evaluate the evidence in order to provide a suitable defense. You are not guilty unless you are found guilty in court.
What to Do If You Have Been Arrested
If you have been arrested or charged with a crime it is necessary to hire a competent criminal defense lawyer right away. Do not speak with police or make a statement until you have consulted with a lawyer. During the arrest process, avoid confrontations and negative behavior as this can create a bad situation. Instead, know that any concerns you have will be addressed later, through proper channels. Your criminal defense lawyer will be extremely helpful in your court appearances and in helping negotiate a positive outcome.
Defending Your Rights
Your rights are important and must be protected throughout the legal process. From initial arrest through the entire case, your criminal defense lawyer works to uphold your rights. If you have been improperly questioned or if the proper procedures were not followed, some of the evidence against you may not be valid. This will be reviewed completely in order to make certain that you were treated fairly at all times.
Help from a Criminal Defense Lawyer
It is important to get help from a skilled criminal defense lawyer as soon as possible. Once you have been charged with a crime, time is of the essence. The legal process can be complex and intimidating for those who are not prepared. The best option is to seek help immediately. Your attorney will take charge of your case and review the details with you. Your lawyer will gain access to the police reports, review witness statements, and talk to you about your situation in order to proceed with the best possible defense.
Choosing a Criminal Defense Lawyer
At Johnson & Johnson, Ltd. we offer strong defense strategies, excellent litigation, and unparalleled negotiation skills with top results. We strive to provide you with the personal representation that you deserve. Our attorneys understand that this is a difficult time in your life and we do everything possible to make the experience easier for you. We are here to answer your questions and assist you through the legal process every step of the way. Count on the professional services of our respected criminal defense lawyers to guide you to a successful outcome. Contact our team as soon as possible to schedule a consultation to discuss your situation with a criminal defense lawyer.
We have three law office locations throughout the South Chicagoland and Joliet areas.
Homewood Law Office
920 W 175th St Ste 5, Homewood, IL 60430
708.799.3100
Orland Park Law Office
16536 S 106th Ct, Orland Park, IL 60467
708.349.8900
Joliet Law Office
15 W Jefferson St Ste 100, Joliet, IL 60432
815.723.8800
Address: 920 W 175th St Ste 5, Homewood, IL 60430
Phone: 708.799.3100
Business Hours: 8:30a–5:00p M-F
Address: 16536 S 106th Ct, Orland Park, IL 60467
Phone: 708.349.8900
Business Hours: 8:30a–5:00p M-F
Address: 15 W Jefferson St Ste 100, Joliet, IL 60432
Phone: 815.723.8800
Business Hours: 8:30a–5:00p M-F
The Law Offices of Johnson & Johnson, Ltd. handles legal matters throughout the State of Illinois.
The firm's attorneys represent clients from many locations, including, Alsip, Blue Island, Bolingbrook, Channahon, Chicago, Chicago Heights, Crest Hill, Crestwood, Elwood, Frankfort, Homer Glen, Homewood, Joliet, Lemont, Lockport, Manhattan, Midlothian, Minooka, Mokena, Morris, New Lenox, Oak Forest, Oak Lawn, Orland Park, Palos Hills, Palos Park, Plainfield, Romeoville, Shorewood, South Holland, Tinley Park, Worth, and more.
We serve Cook County, DuPage County, Grundy County, Will County, and more.